PNWP, on a sylvan hill 700 feet above downtown, is unlike any other Portland studio.
We're 22 fully certified, instructors who specialize in personalized Pilates. People of all ages (15-93, currently) and abilities thrive here. We don't shy away from injuries — clients who are de-conditioned or need special exercise considerations are welcome here. Our client sessions combine science with proven Pilates movement and exercise, customized for each client. And, with the benefit of our robust PNWPE certification/education center, we all regularly seek, absorb and use fresh ideas and techniques.
---
This month we shine a spotlight on
Elle Sevi.

Multi-talented, quiet and confident, Elle loves to learn. "I'm obsessed with learning all that I can in this field. It's never ending. Next up I wanted to learn more about prenatal and post natal Pilates."
Elle started her Pilates training in 2020 at Pacific Northwest Pilates. She was certified in Mat and Reformer level I/II in 2021 and then completed her full certification on all levels and equipment in 2023. She was introduced to Pilates at The Boston Conservatory as a way of cross training as a dancer and instantly fell in love. "I have grown so much while at PNWP. I love watching and learning from every instructor and that has helped me to be a better teacher and have more confidence."
When she's not teaching Pilates, she's dancing with The Holding Project, teaching dance at Studio One Dance Academy, hiking or camping year-round in her pop-up trunk camper with husband Chris and two dogs Kaleia and Lani." We love everything water related including surfing, canoeing, hanging at the beach river and lake."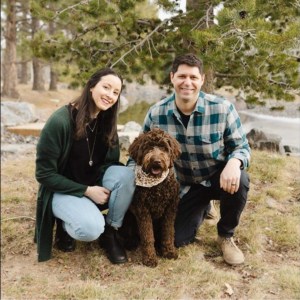 My secret talent is that I make a really good apple pie! "
At PNWP, she gently guides her clients to move more efficiently and correctly. Her all-time favorite Pilates exercise is Mermaid with rotation on Reformer and Cadillac.  "I love how it gets the spine flowing in every direction and is a great stretch to unwind the body."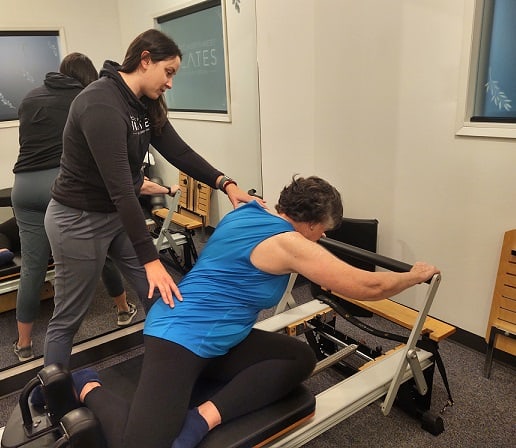 Elle's best advice for a student who is starting a career in Pilates would be: "Find the fun in all the challenges you're given. Stay curious and don't forget why you wanted to do this. Continue to grow not only to help others but to enhance yourself."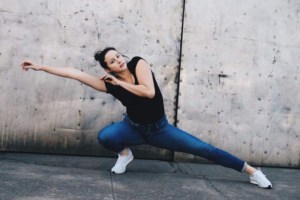 ---
Elle Sevi
Instructor, Pacific NW Pilates
Elle Sevi was born and raised in Oahu, Hawaii where she began her dance training at a young age.
She went on to achieve her BFA from The Boston Conservatory majoring in Dance with an emphasis on Ballet Pedagogy. It was here at the Conservatory where she got introduced to Pilates as a way of cross-training and instantly fell in love.
Elle currently is a professional dancer and teacher in Portland, Oregon. She is passionate in helping clients reach their health and fitness goals. Elle enjoys teaching all ages and abilities and believes everyone can benefit from Pilates.
Training:
+ Fully Certified STOTT PILATES® Instructor on all equipment & all levels
+STOTT PILATES Injuries and Special Populations Course
+Certified Barre Above Instructor
---
Pacific NW Pilates is studio, school and fitness family under one roof. Click to learn more about our education courses and workshops, private studio sessions and group classes. Or call for details: (503) 292-4409.