PNWP, on a sylvan hill 700 feet above downtown, is unlike any other Portland studio.
We're 22 fully certified, instructors who specialize in personalized Pilates. People of all ages (15-93, currently) and abilities thrive here. We don't shy away from injuries—clients who are de-conditioned or need special exercise considerations are welcome here. Our client sessions combine science with proven Pilates movement and exercise, customized for each client. And, with the benefit of our robust PNWPE certification/education center, we all regularly seek, absorb and use fresh ideas and techniques.
---
This month we shine a spotlight on
Sue Brantley.
A Pacific Northwest Pilates veteran of 20 years, Sue Brantley is an experienced, compassionate, life-long movement educator and instructor. Sue has an enviable and exhaustive level of training and expertise in the fields of Pilates, yoga and somatic movement, therapeutic exercise, anatomy and biomechanics.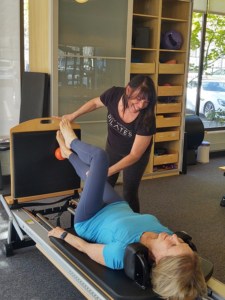 "I love learning new things and applying knowledge to what is already in my wheelhouse. I find inspiration in my teachers, and continue to take workshops and other offerings with a variety of highly skilled practitioners. Then, I make sure to apply the new information right away in my classes and private sessions."
At home, Sue is a skilled and dedicated gardener and birder. "I love to grow plants and arrange flowers. I've had a "green thumb" all my life, starting with 3-for-99-cents plant starts from Payless Drug Store in 6th grade. I still have many of those same plants!"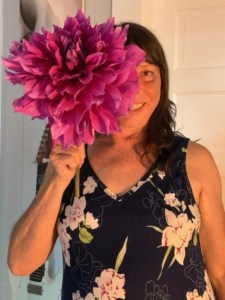 Sue's days off from teaching are spent camping, hiking and enjoying nature with her husband, Paul.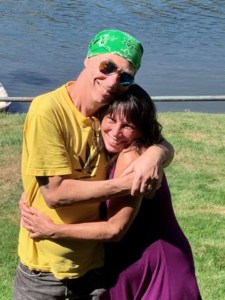 About her early Pilates education, Sue says, "I'm so grateful I landed in such an excellent environment. I started STOTT PILATES training  in 2003. The education is top-notch—consistently—and I feel very lucky to have learned so much from Melanie Byford-Young, Leslie Braverman, and the other extremely talented instructor trainers at Pacific Northwest Pilates."
"When I started, I already had good knowledge of the body and how it moves (and unfortunately, how it can get injured) from teaching yoga and from dancing my whole life. Honestly, the level of anatomy at PNWPE alone is so much more detailed than anywhere else I've studied. Once I was in their program, I knew I had found my calling. I haven't looked back since!"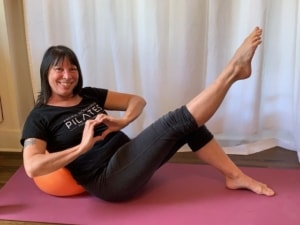 Sue draws energy and motivation from those around her and by finding mentors that align with her pragmatic and nuanced approach to movement and the needs of her clients.
"For yoga, I really like Jason Crandall. I study his instructor videos and listen to his and wife Andrea Feretti's Yogaland podcasts. They have a really sensible and relatable approach to yoga that I appreciate. I also continue to take workshops with my Essential Somatics instructor Martha Peterson. Her expertise in the subtle but powerful field of somatic movement is outstanding."
When asked about her all time favorite Pilates exercise, she responds saying, "Gosh, choosing your favorite Pilates exercise is like choosing your favorite child. Saying that, the thing that sold me on Pilates was doing Footwork on the reformer. The vast variety of positions you can work in, combined with adding Jumpboards, Cardio Trampolines, and various unstable small props make it absolutely invaluable."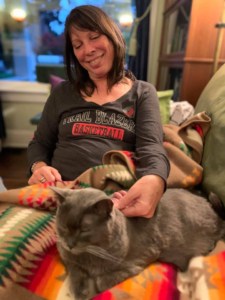 choosing your favorite Pilates exercise is like choosing your favorite child."
For Sue Brantley, working as a movement practitioner is both highly rewarding and challenging. " It's hard to sustain a self-employed career over a long period. People come and go, and you have to continually roll with the punches. To overcome those obstacles, I usually reach out to my clients, students, colleagues and doctor friends to see if they know of anyone who can benefit from the work I do. I also try to be really consistent with my work ethic, and maintain a consistent schedule of classes, sessions, and workshops. I think that helps sustain a good base."
Her advice to the next generation of Pilates experts: "Keep learning. Keep practicing and trying the same thing with all kinds of different people. You will learn so much. Be consistent, and you'll reap some truly wonderful rewards."
---
Sue Brantley
Instructor, Pacific NW Pilates
Sue has been moving her entire life. Like many Pilates teachers, she was a contemporary dancer & choreographer who turned to Pilates and other practices because of injuries. Since retiring from dance, she has been studying yoga, Pilates, fascial fitness techniques, and somatic exercise, finding that combination transformative for her day-to-day practice.
She began this path in 1998, becoming a certified yoga teacher. After knee surgery, she turned to Pilates at the suggestion of her physical therapist. Once she got on a reformer, she never looked back, becoming a STOTT Pilates instructor in 2003. She's been a full-time teacher ever since and has a great interest in using yoga and Pilates as therapeutic, rehabilitative tools. One of the greatest joys for her as a teacher is seeing people reclaim their bodies and find ease and comfort instead of pain and confusion.
Sue loves to teach students of varying levels and abilities. She creates an atmosphere of camaraderie and support among her students and has a warm demeanor as a teacher. While keeping the safety of each student in mind, she believes in gently encouraging each person along their own path of self-discovery. To read more about Sue, visit www.suebrantleyyoga.com.
Training:
Fully Certified STOTT PILATES® on all equipment and all levels
E-RYT (Experienced Registered Yoga Teacher) through the Yoga Alliance
Certified Essential Somatics Exercise Coach, Levels 1 and 2 through Essential Somatics
Certified Yoga for Scoliosis Instructor through Elise Browning Miller
STOTT PILATES® Rehab on the Mat and Reformer, Levels 1 and 2
STOTT PILATES® Injuries & Special Populations Course
STOTT PILATES® Fascial Movement Course Foundations
Self-Myofascial Release Techniques Course
Created "Back Care Basics for Everyone" DVD
 
---
Pacific NW Pilates is studio, school and fitness family under one roof. Click to learn more about our education courses and workshops, private studio sessions and group classes. Or call for details: (503) 292-4409.