Come join us to toast and boast about 22 years!
Pop into the studio for a sip and sweet. Take a free class. Join a raffle & share your stories and successes over the years at PNW Pilates. We'd love to see you.
Wednesday, May 3rd  | 8:30am – 3:30pm
Scroll to see the Free Group Class Schedule
---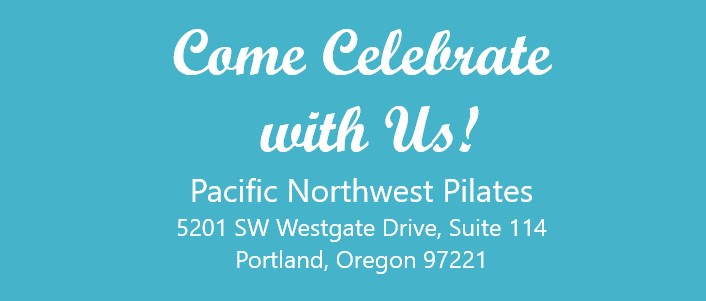 ---
Free Classes all day on Wednesday, May 3, 2023.
7:00 AM – 8:00 AM PDT
Beg/Int – IN STUDIO: Beg/Intermediate Reformer Group Class
Katherine
8:15 AM – 9:15 AM PDT
Intermediate – IN STUDIO: Intermediate Reformer group class
Melanie
9:30 AM – 10:30 AM PDT
All Levels – ONLINE: All levels MELT Method group class
Nancy
10:00 AM – 11:00 AM PDT
ONLINE Reformer – ONLINE: Beg/ Int Group Reformer
Elle
12:00 PM – 01:00 PM PDT
Beg/Int – ONLINE: Beg/Int Pilates Mat + Strength Training and Standing Balance Class
Sue
7:30 PM – 8:30 PM PDT
All Levels – ONLINE: All levels MELT Method group class
Nancy
---
22 years is something to celebrate. Stop by to say "hello!"
Space in classes may be limited. Sign up HERE in advance or contact info@pacificnwpilates.com