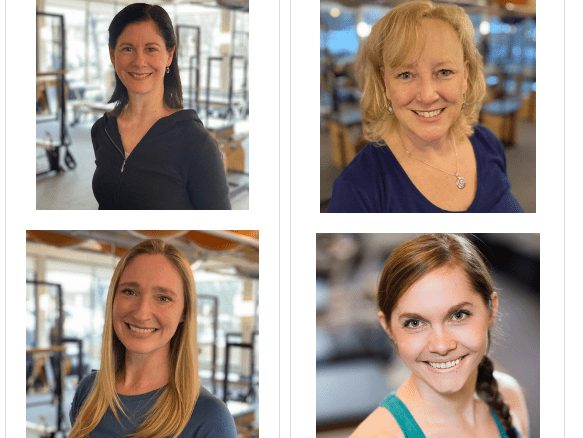 Pacific Northwest Pilates' IQ of Movement Conference happens only one time a year. Don't miss your opportunity to train with one of the best STOTT PILATES® Instructor Trainer Teams including—Instructor Trainer Holly Shaw, Lead Instructor Trainer Leslie Braverman, Master Instructor Trainer Melanie Byford-Young, and Lead Instructor Trainer Katherine Brown.

STOTT PILATES Foam Roller Challenge Level 2—
Online!
Friday, March 31
1:15 PM — 3:15 PM PST
Learn how to add further challenge to the Foam Roller routine with this second-level workshop. Using the roller's unstable nature and reducing the base of support will increase challenge to strength and balance and motivate clients and classes alike. Learn to create programs with added intensity and variety while maintaining safety and cues effectively.
---
STOTT PILATES Athletic Conditioning on Reformer, Level 4—
In Person!
Friday, March 31
3:45 PM —5:45 PM PST
This extreme Reformer workshop developed by the Merrithew Health & Fitness™ team draws from the unique and challenging exercises from previous athletic conditioning workshops and intensifies them. The result is a series of advanced-level moves that place major emphasis on strength and stability of the upper body. This demanding program is presented more as a collection of exercises that can be woven into any other workout and less as a full workout on its own.
---
NEW! STOTT PILATES Athletic Conditioning: Performance Enhancing Progressions and Sequences—
Online!
Saturday, April 1
10 AM — 1 PM PST
Experience new movement sequences and progressions that will build strength and endurance, improve movement health and enhance athletic preparedness. Based on an understanding of the concepts of Activation, Conditioning, Endurance and Recovery, four key components of athletic conditioning, this workshop reviews traditional approaches to performance-based training, introduces and highlights newer methodology and concepts and explores how they can be combined with the STOTT PILATES® Movement System. Created by the Merrithew® Programming team, this workshop demonstrates innovative ways of structuring and designing a mat-based program for the everyday athlete and beyond.
---
STOTT PILATES Reformer & Padded Platform Extender—
In Person!
Saturday, April 1
1:30 — 3:30 AM PST
This is one of PNWP's favorite workshops! Learn new ways to incorporate standing, sitting and kneeling Reformer exercises using the Padded Platform Extender and Pole. This workshop offers great ways to challenge the shoulders, gluteals and the core. The exercises are functional and make a great addition to any intermediate level reformer client workout.
---
STOTT PILATES Soft Kettlebell Plus Workout—
Online!
Saturday, April 1
4 — 6 PM PST
Experience all aspects of functional training – squat, hinge, lunge, pull, push and rotate – in this full-body integrated workout. The 5 lb. Soft Kettlebell Plus is unlike any other, it can be configured and utilized in diverse ways to add challenge and enhance awareness to both standing and Matwork-based exercises. The Merrithew™ Programming Team presents innovative sequences incorporating variations of traditional compound Kettlebell moves along with Pilates repertoire.
---
NEW

!

STOTT PILATES Conditioning for Golf and Rotational Power with Weights—
Online!
Sunday, April 2
9 — 11 AM PST
Stability with mobility and explosive power are key elements of a great golf swing, but how can off-course training help? A targeted dynamic warm-up followed by specific conditioning exercises, can significantly improve golf performance and increase club head speed. Another new addition to the Merrithew Athletic Conditioning Track, this golf-specific workshop features a warm-up that incorporates weighted Toning Balls providing added resistance, neuromuscular challenge and range of motion movements. These prepare the body physically, while directed breathing cues help encourage mindfulness, focus and awareness. The strengthening program that follows brings these elements together and facilitates increased quality of movement, providing the optimal balance of mobility and stability, crucial components in improved performance.
---
NEW to PNWP! STOTT PILATES Athletic Conditioning on the Stability Chair Level 2—
In Person!
Sunday, April 2
11:30 AM — 1:30 PM PST
For those looking to reach the ultimate fitness level, this workshop, developed by the Merrithew Health and Fitness™ team, highlights the value of the Split-Pedal Stability Chair™ as a fantastic fitness tool rather than solely a Pilates piece. The specially-designed moves, developed by the Merrithew Health and Fitness™ team, focus on building the necessary strength, mobility and endurance to boost athletic performance in any sport. This fast-paced and challenging workout emphasizes safe and effective full-body training, and is perfect in combination with traditional Chair exercises.